Sharon Draper (OH '97) Wins Young Adult Library Services Award
February 18, 2015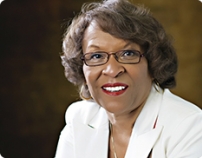 Milken Educator Sharon M. Draper (OH '97) has been named the recipient of the Young Adult Library Services Association (YALSA) 2015 Margaret A. Edwards Award for her significant and lasting contribution to writing for teens. She is honored for her work on "Tears of a Tiger," "Forged by Fire," "Darkness Before Dawn," "The Battle of Jericho," "November Blues" and "Copper Sun."
The YALSA is a division of the American Library Association (ALA) and works to build the capacity of libraries and librarians to engage, serve and empower teens.
Sharon is a professional educator as well as an accomplished writer. She won the Milken Educator Award in 1997 and has been honored as the National Teacher of the Year, is a five-time winner of the CSK Literary Award and is a NYT bestselling author. 
Edwards Committee Chair Sophie Brookover said Sharon's literary characters have realistic complexity, "sparking powerful conversations and building empathy among teen readers."
Read more about the announcement on ALA.org.
---