Craig Lindvahl (IL'89) Appointed to Illinois State Board of Education
March 2, 2015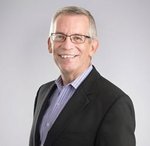 Milken Educator Craig Lindvahl (IL'89) was recently appointed to the Illinois State Board of Education by Illinois Governor Bruce Rauner. He is looking forward to serving education in a state-wide position.
"To have the opportunity to serve in this new way is exciting," Craig told The Effingham Daily News. "I'm looking forward to the challenge."
Craig won the MIlken Educator Award in 1989 for his work teaching high school band and television production at Teutopolis Grade School in Teutopolis, Illinois. He and his students made music videos that were sent to every country in the world and netted replies from many world leaders.
Craig retired from teaching in 2013 and became executive director of the Midland Institute for Entrepreneurship that has supported school districts in the development of CEO programs in about 30 school districts in four states.
Read more about the appointment at The Effingham Daily News.
---