Brenton Young (WY '98) Named Chief Policy Officer for Wyoming Department of Education
December 9, 2014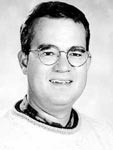 Wyoming Superintendent of Public Instruction-Elect Jillian Balow has announced that Milken Educator Brenton Young (WY '98) will be a part of her new leadership team, serving as Chief Policy Officer.
Breton was a classroom teacher for over 20 years, during which time he was recognized with the Milken Educator Award. Since leaving the classroom, Brenton has served as Assistant Director of Instruction, as a member of the Wyoming State Board of Education and as a member of multiple education associations. His experience and dedication to student achievement were key to his appointment to a team which Superintendent-Elect Balow says "will bring professionalism, expertise, stability, and integrity to the ranks of the Wyoming Department of Education."
Read more about the announcement.
---