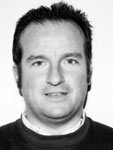 Donald Snyder (PA '99), a biology and general sciences teacher at South Philadelphia High School in Philadelphia, Pennsylvania, has died. He was 61 years old.
Snyder challenged his students to apply problem-solving and critical-thinking skills to their science studies. Under his guidance, South Philadelphia High students entered, and often won, prestigious science competitions such as the Science Olympiad and ECO-MEET for Environmental Awareness. Snyder also brought students into community improvement projects, including a neighborhood tree farm developed with senior citizens.
When Snyder retired in 2013, he received the Award of Excellence from the South Philadelphia High School Alumni Association for his two decades of service.