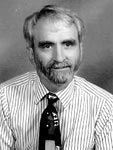 John Snyder (NV '92), a 36-year veteran educator across several states, passed away on May 26, 2018, after a long illness. He was 71.
Before his eight-year illness, John was an active and loyal member of the Milken Educator Network. He attended numerous national conferences and notifications for new Milken Educators, and he moderated the MEA email list, collecting monthly news from the state liaisons. In addition to his Milken Educator Award, John was named Nevada's State Teacher of the Year in 1990, won the Dolly Parton Chasing Rainbows Award in 2003, and was inducted into the National Teachers Hall of Fame in 2007.
"John had a wicked and wonderfully self-deprecating sense of humor," says Dr. Jane Foley (IN '94), senior vice president of the Milken Educator Awards. "Although he used a wheelchair, he never let his disability interfere with his passion for education, innovation, and technology."