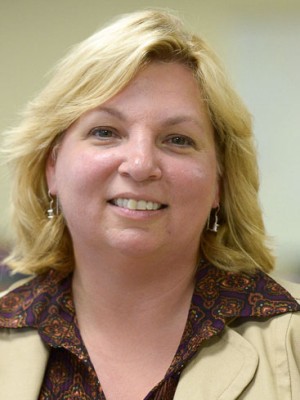 Send a message
Ginger Giessler (IN '13)
Teacher/Trainer/Coach
New Tech Academy @ Wayne High School
Fort Wayne, IN
Subject(s) taught:
English/Language Arts
Grade(s):
9, 11, 12
---
At the time of the Award, Ginger Giessler was:
Teacher
New Tech Academy @ Wayne High School
Fort Wayne, IN
Subject(s) taught: English/Language Arts
---
Biographical Information
Language arts teacher Ginger Giessler pushes boundaries at New Tech Academy @ Wayne High School, a diverse urban school in Fort Wayne, Ind. An influential risk taker who has made an impact through engaging students beyond the standard academic ideals of pass/fail, Giessler has cleared the way for many of New Tech's most innovative academic programs.
As a national New Tech Certified Teacher with an expertise in project-based learning, she mentors colleagues and engages students in exploring real-world challenges and problems. In the process, Giessler integrates language arts with New Tech's STEM focus and has proven time and again that achievement belongs to students who feel ownership for their education. Students respect her writing critiques and expectations of excellence. Her students' literacy scores are 25% above the district average and student pass rates are at the school's highest levels with 75-80%. In the national "Letters about Literature" essay competition sponsored by the Indiana Center for the Book, 16 of Giessler's students have been semifinalists, including the 2012 national champion.
Giessler models acceptance of all students regardless of their differences and establishes classroom protocols that create an environment conducive to collaboration. When New Tech's school culture was not developing in as positive a direction as hoped, she came up with an idea to present students with keys to represent core school values. During monthly ceremonies, each of seven students would select another seven students to pass on their keys – and values – with events captured on video. As a result of the "Key Program," school spirit was visibly lifted.
Giessler's contributions extend well beyond the high school campus. While continuing as a classroom teacher at New Tech, Geissler now devotes part of her time to coaching teachers at the emerging New Tech-Towles Middle School in project-based learning, collaboration and accountability. This quintessential 21st-century educator is also in demand as a speaker at state and national levels.
---
Related Connections
---
Ginger Giessler Newsletters
Oct 04, 2013
---
Ginger Giessler In The News
The Journal Gazette
| Sep 04
, 2015
|
Fort Wayne, IN
Expertise
Project Based Learning