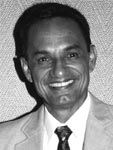 Ron Bright (HI '90)—known as a "legendary"and "iconic" theater director in Hawaii—passed away July 7, 2015 at age 81. 
Ron, who won the Milken Educator Award in 1990, taught theater at Castle High School in Oahu for 50 years. Revered among staff and students, the theater at the school is now named after him—the Ronald E. Bright School of Performing Arts. 
Though Ron retired in 1988, he continued to direct local musicals and stay active in the theater community. He was known by his students as an energetic, caring and inspiring leader. Some of those students even went on to appear in Broadway shows, national and international theater companies, under his tutelage.
Hawaii Department of Education Superintendent Kathryn Matayoshi called Ron a "legend"for his "work as an educator and mentor."
"Mr. Bright, or 'Mr. B.'as he was affectionately known, has positively influenced countless number of students and educators,"she said in an official statement. "He taught students and friends to always believe in themselves. We are so grateful for his inspiring lessons."
Read news coverage of Ron's life and legacy here and here.