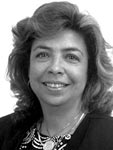 Margaret "Peggy" Clinkscales (CT '88) passed away in Bridgeport, Connecticut, on January 22, 2016. She was 78 years old.
Described in her obituary as "a dedicated and fearless educator," Clinkscales taught several grade levels in Bridgeport's elementary schools, spending most of her tenure as a fourth-grade teacher at High Horizons Magnet School.  She presented on "Critical Thinking and Literature" to Connecticut's Institute for Teaching and Learning and took an active role in a district-wide African-American organization promoting multicultural understanding. Clinkscales also chaired the statewide Celebration of (educator) Excellence Advisory Committee.
In her later years, according to the obituary, Clinkscales enjoyed quilting and became a member of the Connecticut Piecemakers Quilt Guild. Two quotes that resonated for her: "Quilting is sharing yourself with others" and "Quilts connect the past with the present and the future."