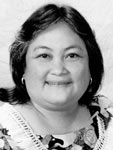 Phyllis Nakasuji (HI '99) passed away on May 27, 2023.  She was 74 years old. 
Phyllis taught biology at Kalani High School in Honolulu when she received her Milken Educator Award. She made learning an active process for her students, using principles of inquiry learning, critical thinking, peer teaching, multiple intelligences and hands-on experimentation. Phyllis led Kalani's School-to-Career team, where she provided career exploration opportunities from job shadowing to participation in a biotechnology research program. Outside the classroom, Phyllis mentored a large number of new and beginning teachers, and was the leader of the school's accreditation focus group for curriculum and instruction.
Phyllis worked the reception table at all gatherings of Hawaii Milken Educators. She greeted everyone with smiles and put stars on name tags at every Milken event. Phyllis also assembled the Milken Educators of Hawaii cookbook, full of recipes shared by members of the Milken Educator Network.
---