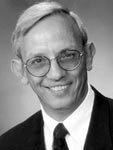 John Shewmaker (AR '95), a former high school principal, has died at age 66. 
Shewmaker received his Milken Educator Award as principal of Ridgecrest High School in Paragould, a school he guided through major reform using the student-centered learning and block scheduling tactics espoused by the Coalition of Essential Schools. His "Copernican Plan" improved the student/teacher ratio, grew the honor roll and gave teachers a stronger voice in curriculum development. Shewmaker divided his long career among several Arkansas districts, including Paragould, Hot Springs, Oak Grove and Lafe.
As a member of the National Coalition of Essential Schools, Shewmaker traveled around the country on education reform advisory teams. After his retirement he served on Scholastic Audit teams for the Arkansas Department of Education.
Former students left touching comments on Shewmaker's online obituary. A former Hot Springs student wrote: "Mr Shewmaker was my principal at Hot Springs. He was a great principal and a great man." Said another, from Paragould: "Mr. Shewmaker was my favorite principal while at Ridgecrest. He was a great man and you could tell how much he loved his job."