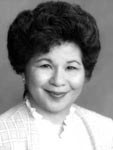 Jane Serikaku (HI '98), the first woman president and then executive director of the Hawaii United Okinawa Association, has passed away at the age of 79.
Serikaku was the principal of Iliahi Elementary School in Wahiawa when she won the Milken Educator Award in 1998. A longtime leader in the Okinawan community, she was known for her development of preschool programs, as well as and exchange and leadership programs between Hawaii and Okinawa.
Read more about this beloved educator from the University of Hawai'i Manoa, her alma mater. 
---