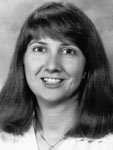 Longtime science teacher Bonnie Fancher (IN '99) passed away from brain cancer on June 12, 2015 at the age of 65.
Bonnie worked for the Switzerland County School Corporation in Vevay, Indiana, for her entire 35-year career as a science, chemistry and physics teacher. She won the Milken Educator Award in 1999 due to her many strategies to advance environmental stewardship and hands-on approach to teaching students.
Bonnie created an environmental science course that engaged students in a variety of real-world projects, such as monitoring local bodies of water and supplying data to state agencies. She also created a technical chemistry course modeled on a workplace laboratory facility, helping students build workplace skills and encouraging post-secondary training.
A lover of the outdoors and member of the National Audubon Society, Bonnie was an avid bird watcher, according to her obituary.
For more on Bonnie's life and work, please see her obituary listing.