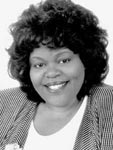 Francine Johnson (IL '98), an elementary teacher, literacy expert and renowned "teacher of teachers," has died. She was 61.
At the time of her Award, Francine was a first- and second-grade teacher at Oscar Stanton Depriest Elementary School in Chicago. She then held a district position with Chicago Public Schools, was an Illinois State Teacher of the Year finalist and received the Disney American Teacher Award. She was especially known for her mentoring of teachers and for her family literacy programs.
The Milken Educator Award held a special place in Francine's heart. In her last days, her family placed her Award so she could see it easily from her bed, said fellow Milken Educator Dr. Helen Massey (IL '95), who visited her before she passed. Both Helen and Dr. Cheryl D. Watkins (IL '08), Francine's distant cousin, attended her memorial service.