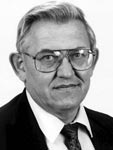 John Gengler (ND '92), a 38-year veteran of education, passed away on July 1, 2015. He was 76. 
John attended Abbey Jr. College in 1959 and Dickinson State College in 1962 where he earned a bachelors degrees in science and teaching. He began his teaching career in South Heart Public School from 1962-1964. After working in public relations until 1970 at Assumption College (Abbey), John served as a teacher and then principal at Richardton-Taylor High School until his retirement in 2000.
John was awarded the Milken Educator Award in 1992 during his influential time at Richardton-Taylor High School.
"I was a pro-active teacher and administrator whose life was totally intertwined with his profession," he said.
John found teaching "exhilarating" up until his retirement. He was a dedicated member of the Secondary Principals of North Dakota Association, acting as president of the organization in 1985 and then state coordinator from 1986-1988.  
"For our profession to grow, principals must be involved locally, statewide and nationally," John once said.
A funeral was held on July 7, 2015. Read more about John's life and work in his obituary listing, and share remembrances and condolences online at www.stevensonfuneralhome.com.