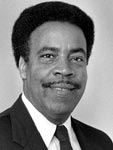 A 33 year veteran of the Bridgeport, Connecticut, Public School System, educator William Tinkler (CT '92) passed away on Dec. 18 2012 at the age of 70.  
William, a beloved teacher and community advocate, was the principal at Roosevelt Elementary School in Bridgeport when he received the Milken Educator Award in 1992. During his time at the school, William added pre-algebra and Latin to the curriculum and introduced the study of the classics to all grade levels with the aim of strengthening and diversifying the knowledge of his students.
He was known to family, colleagues and students for his optimistic and energetic style.
"I believe that a positive attitude is contagious," he said. "We must and we will change children's 'I can't' to 'I can!'"
According to his obituary, William was a faithful member of Bethel A.M.E. Church and later Black Rock Congregational Church where he sang in the choir.
For more on William's life and legacy, please see his obituary listing. 
---