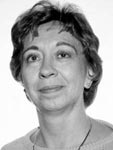 Carol Sparks (CA '87) passed away on February 23, 2023. She was 85 years old. Carol was a member of the very first class of Milken Educators. At the time of her Milken Award, she taught eighth grade Spanish at Foothill Middle School in Walnut Creek.
Carol completed her education at the University of Kansas, moving to California to be closer to her family. She began her teaching career with the Mt. Diablo Unified School District, first teaching fourth grade and then becoming a traveling Spanish teacher. Carol truly found her niche teaching Spanish to seventh and eighth graders at Foothill Middle School. She believed in immersive teaching and rarely spoke English in her classes.
Carol was part of a team of authors who wrote "Dime! Dos," which became the number one Spanish textbook in both Texas and California. After Carol retired from teaching in public school, she taught education methodology at St. Mary's in Moraga and for California State University Hayward and East Bay. She instructed and supervised student teachers as they began their careers. In addition to the Milken Award, Carol also received the Hal Wingard Lifetime Achievement Award in 1996 from the California Language Teachers Association.
---