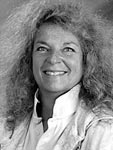 Milken Educator Carole (Moses) Harman (RI '93) passed away on Nov. 11, 2014
Carole was an art teacher for 33 years. She spent her career teaching the arts at Hope and Central high schools in Providence, Rhode Island.  She continued mentoring potential art teachers and teaching part-time in the Art Education Department at Rhode Island College after her retirement in 1999.
While teaching grades nine through 12 at Central High School, Carole was honored with the Milken Educator Award. At Central High School she implemented "City Wide Arts," a forum for exhibiting art works by public school children. She also started an arts program for the school's alternate diploma project, which offered academically challenged students an opportunity to complete high school by attending school after hours.
For more on Carole's life and career, please see her obituary listing.