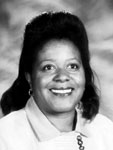 Katherine M. Adams (AL '01),  a high school computer and business teacher and middle school principal in Tuscaloosa, died August 2, 2015, at age 60. 
Adams graduated from Carrollton High School, where she was named the school's first African American homecoming queen. She graduated from the University for Women in 1977 and continued her education at the University of Alabama, where she earned a Master of Arts Degree in 1982. She later returned there to receive a certificate in Education Administration.
Dedicated to furthering excellence in education, Adams worked in the Tuscaloosa County school district as a teacher at Brookwood High School. She later moved to the Tuscaloosa City school system, where she taught computer education at Central High School and Northridge High School. Adams also served as the assistant principal at Tuscaloosa Middle School and taught at the Tuscaloosa Center for Technology and Northridge High School. 
After receiving the Milken Educator Award in 2001, Adams was also recognized by the mayor of Tuscaloosa and governor of Alabama. Adams was very proud of her Milken Award and attended many notifications for new Milken Educators in her state. Dr. Jane Foley, senior vice president of the Milken Educator Awards, saw Adams at a notification in January 2015 and says Adams told her she "was still in shock to receive the Award and it changed her life."