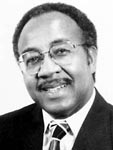 Abraham Funchess (SC '95), who served 42 years in the public schools of Calhoun County, died on January 20, 2016 in Orangeburg, South Carolina.
Funchess received the Milken Educator Award in 1995 at John Ford Middle School in St. Matthews, where he taught science. In addition to the Milken Award, Funchess earned two Teacher of the Year recognitions and a Claflin College Presidential Citation Award. He also served for three years on South Carolina's state board of education.
In Funchess's obituary, his children said their father explained his attitude toward teaching with a variation on the common saying "You can lead a horse to water but you can't make him drink." Funchess's version: "If you give a horse salt pellets, it will become thirsty enough to want to drink. That's what we have to do with our children — inspire them to want to learn."