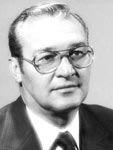 Frank Lamping (NV '93), a veteran Milken Educator who had remained involved in the program ever since his Award, passed away on November 11, 2014.
Lamping, who served in the U.S. Army during the Korean War, received a bachelor's degree at Slippery Rock Teacher's College and master of education at the University of Pittsburgh. He was teaching at Schenley High School in Pittsburgh when the Clark County School District in Nevada recruited him to be their first special education coordinator. He was a principal for the Clark County School District for over 30 years, serving at Paradise Elementary, Hyde Park, Orr and Burkholder Middle School.
Lamping opened two new schools for the Clark County district and was instrumental in developing its middle school concept, earning the unofficial title "guru of middle school education" from his colleagues. Under his guidance, Kenny C. Guinn Junior High was the first school in Nevada to receive the President's Excellence in Education Award.
Clark County School District named an elementary school after Lamping in 1998, and he made regular visits there to read to the students. "All I ever wanted in my career was to make a difference in the lives of the next generation," he once said, according to his obituary. When the Milken Educator Award team surprised Stephanie Steckler-Hathaway (NV '06) with her Award at Frank Lamping Elementary, Lamping was on hand to welcome her to the Milken Educator family. Lamping also attended the notifications for Jeremy Gregersen and Mike Patterson in Las Vegas in 2009.
Lamping is survived by his wife, Rose; sons, Kirk and Clark; daughters-in-law, Sharena and Bonnie; grandchildren, Jared, Jessica, Ryan and Jack Reagan; brother, Joseph of Pittsburgh; stepdaughters, Lianne (Vince) and Victoria (John); and stepgrandchildren, Katharine, Claudia, Ron and Ryan.