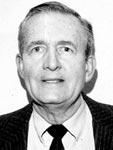 James Barlow, who received an Oregon Milken Educator Award in 1990, has died. He was 86 years old. 
Jim was a philosophy and social studies teacher in Beaverton. Thousands of high school students across multiple states participated in his Model Presidential Nominating Convention, a widely acclaimed simulation of the actual Presidential nominating conventions. Many actual presidential candidates, including Robert F. Kennedy, Jimmy Carter, Michael Dukakis, Jesse Jackson, and Bill Clinton, attended and spoke at Barlow's model conventions. 
Before Barlow died, his former students and colleagues created The James Barlow Appreciation Society, a Facebook group that now has more than 700 members. VIncent Kirnak, a former colleague, posted after Barlow's death: "He lit fires in the minds of his students, showed great compassion, and was truly inspirational."