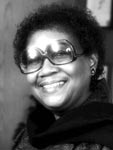 During Mae Johnson's (CA '87) impressive 35-year career in education she served as a teacher, counselor, dean, vice principal and principal. As a single mother of six, she took college courses at night to earn a teaching credential, which launched her career as an educator.
In 1987 she was a recipient of the prestigious Milken Family Foundation Educator Award for her focus on improving academics at Monterey High School in Monterey County, where she was principal. Mae's leadership transformed the newly integrated school into an institution recognized for academic excellence. 
Becoming a Milken Educator was a highlight of her career, said Mae's son Ron Johnson.
"She really held in her heart Lowell and Mike and the Milken Foundation," said Ron who works in youth development for the Boys and Girls Clubs of Monterey County, his own career path influenced by his mother. "She was such a giver, without seeking accolades or recognition. But the Award gave her a new perspective on how educators are viewed."
Mae kept a framed picture of herself as a recipient of the Milken Educator Award alongside a framed photo of her inaugural class in her living room.
Soon after being honored as a Milken Educator, Mae was named the California State Legislature's 1987 Woman of the Year. She passed away February 24, 2015 at 82.