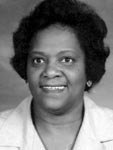 Henrietta Grant (TN '95), a powerful force in Knoxville's education community, died on November 28, 2015 at age 79.
Grant began her career as a librarian at Knoxville College and in Knox County schools, then spent 21 years at Oak Ridge High School, where she served as dean of students-vice principal of student affairs. She was the principal at Austin-East High School when she received a Tennessee Milken Educator Award in 1995.
Working with Knoxville YMCA, Grant developed Leadership 98, a program that monitored the progress of 50 incoming freshmen per year. Each month the students participated in roundtable discussions with business leaders, human resource managers and health professionals; they also attended workshops on law enforcement and legal issues conducted by police officers and court officials. Grant also led efforts to create a GED program for the community.
Grant retired from the school system in 1998 and joined the Knoxville Utilities Board as community relations manager, where she developed a program called TeenWork that gave Austin-East students training and summer job opportunities.
Elizabeth Willis, Grant's granddaughter, told the Knoxville News Sentinel that her grandmother loved people and wanted everyone to succeed. "I think her biggest goal was that everybody gets a quality education and have a chance to succeed in this world," Willis said. "She was compassionate about people just realizing their potential."
Grant is survived by daughter Kathi Grant Willis and granddaughter Elizabeth Willis. Her husband of 40 years, Lorenzo Grant, predeceased her.