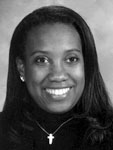 Crystal L. Simpson (NE '08), 47, principal at Dodge Elementary School in Omaha, Nebraska, died suddenly on April 22, 2016 at Omaha Medical Center.
Simpson remained an active member of the Nebraska Milken Educator network after receiving the Award. In the fall of 2015 she attended the surprise notification for Courtney Matulka, the state's most recent Milken Educator Award recipient.
Simpson had worked in the Omaha Public Schools since 2000 and became the principal at Dodge Elementary in 2012 after serving as assistant principal at Standing Bear Elementary. At the time of her Award, Simpson was an Instructional Facilitator at Fontenelle Elementary School.
The tireless educator was known to care deeply about her students. Last year she helped Dodge Elementary earn recognition as a Gold Award Winning School, said Lisa Utterback, executive director who oversees principals at Omaha Public Schools, according to Omaha.com. Simpson also coached track and taught Sunday school at Grace Apostolic Church, where she and her husband met and were married 22 years ago.
In the Omaha.com article, Simpson's husband K.T. said that she reached out to difficult children others found hard to handle, taking some into her home. "She didn't bring stray dogs home, she brought stray kids home. She loved them all as her own," K.T. Simpson told Omaha.com.