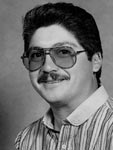 Retired educator Carlos Chavez (NM '93) passed away on October 30, 2016, at the age of 62.
Chavez received a New Mexico Milken Educator Award in 1993 as a history and Spanish teacher at Rio Grande High School in Albuquerque. His U.S. and world history courses, which he taught in Spanish, emphasized Hispanic contributions to these histories. Chavez pioneered the State Seal of Bilingualism and Biliteracy, now a statewide recognition in New Mexico.
For more details, see Chavez's obituary in the Albuquerque Journal.