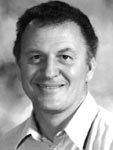 Dr. John Genasci, a 1988 Milken Educator from Nevada, passed away on October 17, 2020. 
John was a principal in at Procter Hug High School in Washoe County when he received the Milken Educator Award, during the first year the Award was presented in Nevada. He was known for doing what was right, not what was popular, and was often called a maverick. John served as president of the Nevada Association of School Administrators and worked with the National Association of Secondary School Principals. Before his leadership in Nevada, John served in the Utah National Guard and worked in Brazil with the Peace Corps. He also worked as a principal at a school in Zaire, Africa.
In 1986, Procter Hug was recognized by President Ronald Reagan for Excellence in Education. After he retired from education, he became a full time cattle rancher. "He always felt grateful to the Milken Foundation for his award and recognition and for caring about education," his wife Kay told us.
---